Mr. Meow was a lanky tabby with beautiful and unique markings, including the cutest "eyeliner" around his golden eyes. Video recordings reveal the sweet and insistent meow for which he was named. He would greet his owners by weaving around their feet and brushing against their legs.
But in March 2022, at just 18 months old, Mr. Meow's life was cut short. He was viciously shot to death with a rifle in his Copperopolis, California, neighborhood in an act of heinous and senseless cruelty.
According to Calaveras County police, Colton Fontes, 19, confessed to killing Mr. Meow. He also shared on social media a bloody video of Mr. Meow in the aftermath.
Through our Stop Cruelty to Cats campaign, Alley Cat Allies is advocating for the maximum possible penalty for Fontes, and for appropriate repercussions for all perpetrators of animal cruelty.
Louie
Alley Cat Allies rescued Louie from unimaginable cruelty at the hands of his former owner. He was too traumatized to even properly eat, and it took months of targeted care to regain his mental and physical well-being. We made sure he found a great home–and that his abusers faced severe penalties.
Learn more and Speak Out for Louie and all cats.
Stockton Breakwall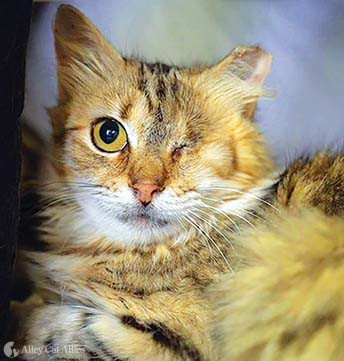 Community cat Rosie lost her eye when she was maimed during a government -sanctioned cat massacre in Australia's Port of Newcastle Alley Cat Allies is working to challenge the underlying beliefs and misinformation that led to this cruelty– in Port of Newcastle and around the world.
Learn more about the Stockton Breakwall Cat Shootings.