For $30, a cat can find the perfect foster homeand it may be the first safe, loving environment they have ever experienced. For $500, urgent surgery can be performedlike it was for Indah, whose life was saved at the Becky Robinson Alley Cat Allies Veterinary Hospitalâ"¢ in Louisiana. And every gift in between can grant another cat or kitten the protection, critical care, and lifesaving change they deserve.
You can help us achieve these incredible resultsand so much morewith a gift through"¯Alley Cat Allies' 2021 Holiday CAT-A-LOG!
Every year at this time, as we all take stock of what is most important in our lives, Alley Cat Allies creates a new CAT-A-LOG with selections to support our impactful work for cats and kittens. YOU choose where your generosity goes, and every dollar makes a difference for a cat who needs us right now.
Your CAT-A-LOG Gift Saves Cats' Lives
Fern 
When Fern arrived at the Becky Robinson Alley Cat Allies Veterinary Hospitalâ"¢ in Louisiana to be treated for a jaw injury, she was also spayed, vaccinated, and, like all animals treated at the Hospital, microchipped.
Alley Cat Allies is a leading advocate for microchipping to ensure cats can reunite with their families should they ever become lost or displaced.  Now, Fern always has a ticket back home.
Your gift of $45 through our CAT-A-LOG can microchip 15 cats so they can be successfully reunited with their families.
Smoosh 
Through funding from Alley Cat Allies, Smoosh received the low-cost, high-quality veterinary care he neededincluding ever-critical neuter surgery and vaccination.
It gets better: Smoosh found his forever home in the process! One of the veterinary technicians treating him fell in love and adopted him.
Your gift of $60 helps us launch and fund spay and neuter initiatives that are key to improving cats' lives.
Austin
Since 2000, Alley Cat Allies' Atlantic City Boardwalk Cats Project® has brought together community leaders, advocates, and the public to protect the cats along the Boardwalklike handsome Austin! The cats have been spayed and neutered through Trap-Neuter-Return (TNR) so they do not reproduce, and their population is thus humanely managed.
The proof of success is in the full, healthy lives of the Boardwalk Cats: Most are in their teens, and many have lived over 20 years. Our Boardwalk Cats Project serves as an inspiration and model for TNR as the evidence-based approach to community cats.
Your gift of $135 can provide a month of cat food as part of our dedicated, ongoing care for Boardwalk Cats like Austin, who is sometimes known as Bluto.
Rosie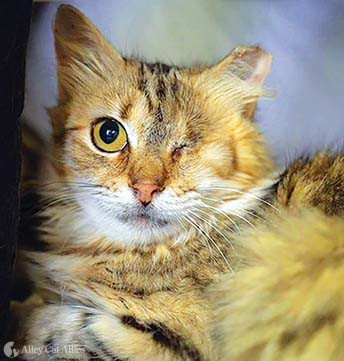 Community cat Rosie lost her eye when she was maimed during a government-sanctioned cat massacre in Australia's Port of Newcastle. This institutionalized cruelty was not only horrific, but pointless in light of overwhelming scientific evidence that killing fails to control cat populations.
Alley Cat Allies works every day to fight this cruelty, challenge the underlying beliefs and misinformation that fuel it, and change laws that allow itin Australia and around the world.
Your gift of $425 helps us continue our tireless work to stop animal cruelty, including in Australia, East Bay, California, and Berkeley County, West Virginia.
Your Impact is Your Choice
With a gift from our CAT-A-LOG to honor the holiday spirit, you can empower Alley Cat Allies to create even more happy endings for cats and kittens.
As we continue to face the COVID-19 pandemic and many other challenges in our day to day, the cats in our lives are a source of comfortbut they need us just as much. Help protect them this holiday season and choose how you make an impact with a gift from our CAT-A-LOG.
Thank you and have a safe and happy holidays!