When cats need us, Alley Cat Allies will always be there.
We recently responded to two crisis situations in which cats needed immediate rescue to save their lives. Now, we are seeking loving foster and adoptive homes for 58 cats and kittens.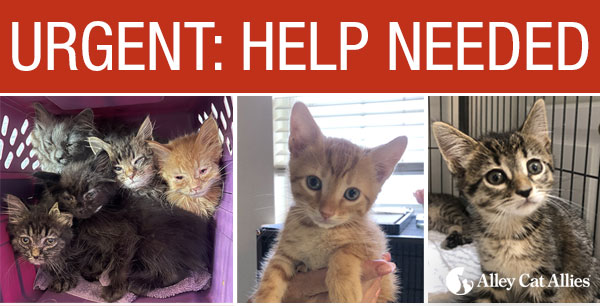 If you live in the Maryland, Northern Virginia, Washington, D.C. or New Jersey areas and are able to help, please reach out to us by calling (240)-482-1980 and dialing 0 or emailing [email protected].
Alley Cat Allies will cover the costs for fosteringall you need to provide is you home, care, and love.
Whether you or someone you know can take in one, two, or more of these cats, you will be doing an incredible service in a time of great need.
These cats and kittens are waiting for a safe place to land, so please spread the word to your friends and family in our target areas. Thank you for your compassion and support.