Newsletter
| Alley Cat Allies, Anti-Cruelty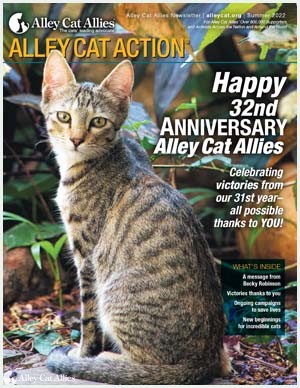 Happy 32nd Anniversary Alley Cat Allies
In this Issue:
Victory! All Thanks to You!
The Fight to Save Lives Goes On
President's Message
I'm so excited to celebrate another Alley Cat Allies anniversary! Incredibly, this is our 32nd year, now with nearly 1 million supporters like you. If you're one of the many incredible supporters
who've been with us for years—or even since day one—thank you for empowering us to save lives as the premier powerhouse organization for cats and all animals. If this is the first time you're reading about us, welcome! We invite you to join the movement, too.
Through fearless innovation, Alley Cat Allies has made monumental change in society's
treatment of animals. We exposed and dismantled lethal control, which is old-school, tried-and-failed and
ethically unsound. We brought lifesaving programs, once considered radical, to communities in all corners
of the map, including Trap-Neuter-Return (TNR), the only humane, effective approach for cats living outdoors.
Today, we are fighting harder than ever to outlaw deadly policies in every community, enact humane,
evidence-based laws and programs, and tirelessly confront cruelty against cats and all animals.
Just this summer, we took immediate action to save sick and injured cats and dogs suffering with
no medical care in Louisiana. While designing the blueprint for systemic change, we wasted no time and
moved more than 140 animals from cramped, filthy cages into a safe and enriching environment where we
provided long overdue veterinary treatment. They are now with credible organizations where they will find
loving adoptive homes!
You, our supporters, are the reason this victory was possible. Through that same strategic compassion, we
will stop similar cruelty in the Berkeley County Animal Control in West Virginia … ensure cats are never again
shot and killed in California's East Bay Parks or the Port of Newcastle, Australia … push for killers of cats
like Mr. Meow to be prosecuted to the fullest extent of the law … and so much more.
In this issue of Alley Cat Action, you'll read about just some of the incredible victories in our 31st year
together. But the work is far from over. We need you with us more than ever in this movement.
For cats and all animals,

Becky Robinson
President and Founder, Alley Cat Allies
Want to receive our print Alley Cat Action® newsletter in your mailbox?
Become a donor!